Joe Lazorik's
"Good Times Piano Music"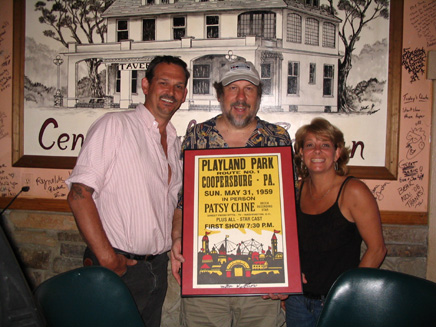 Patsy Cline Appearance at Playland Park - Coopersburg, PA
Joe is a big Patsy Cline fan. Several years ago he discovered (and obtained) a poster of a little known appearance by her in his hometown of Coopersburg, Pennsylvania. He did some research locating the place she performed and actually visited with the man (then age 93) who had hired her and provided a wealth of information and stories unknown to many. Joe brought this attention to the local press who also had no idea of her appearance in our area and thus began a tribute to this musical legend who still is an icon decades after her death.


On Sunday May 31st, 1959 Patsy Cline performed at Playland Park in Coopersburg, PA. Below is the information that Joe was able to contribute towards commemorating the 50th anniversary of this Lehigh Valley musical event:



A reproduction of Joe's original "Playland Park Coopersburg PA" poster was on display in the "Becoming Patsy Cline" exhibit at the Museum of the Shenandoah Valley in Winchester Virginia!


Note from Joe: To reflect how how she is still revered in the hearts of many today, this is the most visited web page on this site as people worldwide still have a fascination and love for everything Patsy. Enjoy!

---

Copyright 2017 - "Good Times Piano Music"
Joe Lazorik - Lehigh Valley Piano Entertainment
Coopersburg, Pennsylvania