With over four decades of professional piano playing experience, Joe Lazorik allows his versatile style to adapt to your entertainment needs.  Joe sees that the idea of a bar with a piano has rapidly faded (See description below for "Old-time Piano") and he is trying to revive that entertainment concept to its once grand glory.  If there is a piano available (or he can bring his own) and a small crowd, he can make everyone's time enjoyable.  In addition to providing cocktail and dinner music for your event, Joe is well-known for being able to interact with audiences plus entertain with "Player Piano" and Old Time Saloon style Honky-Tonk music for everyone's listening and singing pleasure.  Song sheets can be made available for any audience members to join in if desired, sampling turn of the century classics, barroom standards, folk songs, ballads, patriotic selections, show tunes, TV theme songs, plus classic rock and pop hits of the 50's, 60's and 70's.  Also, a "guest microphone" is usually nearby for those who want to share the spotlight in song.  Audience participation is encouraged and Joe's objective is always for everyone in attendance to have fun, which is why his entertainment has become recognized around the Lehigh Valley area as "Good Times" Piano Music! When it comes to Lehigh Valley Music, Joe Lazorik is definitely a unique Pennsylvania Piano Player Musician Entertainer Performer!
Piano Entertainment can also be customized to accommodate private residences, church groups, senior communities, and other non-traditional settings too. Contact Joe to arrange a program to fit YOUR entertainment needs at a very reasonable rate. If you're in the Eastern Pennsylvania / Western New Jersey area, have a piano, and want to liven up your party or establishment, consider some "GTPM" for a refreshing change!


Enjoy background music, a formal show, or sing along piano - your choice!
Joe specializes in both Private and Public Event Entertainment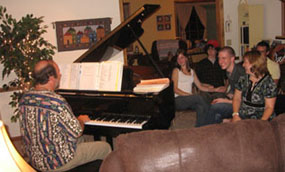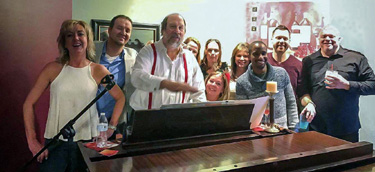 At your home or in a hall, Joe Lazorik can accommodate your guests!  
Be it 20 or 200 in attendance, Joe will provide "personal" entertainment interaction.
From background music, audience requests, or "The Great American Piano Show",
everyone can enjoy some "Good Times" !
Here are just some of the past and present Lehigh Valley & Pennsylvania area establishments Joe has performed at:

Butternut Inn - Pleasant Corners, PA
The Livewire - Easton, PA
The Chit Chat Club - Bethlehem, PA
Patrick's - Quakertown, PA
Minsi Trail Inn - Bethlehem, PA
Citizen's Fire Company - Emmaus, PA
The Captain's Table - Allentown, PA
The Riegelsville Hotel - Riegelsville, PA
Palmer Fire Company #2 - Easton, PA
Ye Olde Ale House - Allentown, PA
Raubsville Inn - Raubsville, PA
Klecknersville Hotel - Klecknersville, PA
Lutheran Manor - Bethlehem, PA
Rosini's Tavern - Perkasie, PA
Last Chance Saloon - Tamaqua, PA
Silver Creek Country Club - Hellertown, PA
Saucon Valley Country Club - Bethlehem, PA
Easton Eagles Club - Easton, PA
Appleford Estate - Villanova, PA
Holy Family Manor - Bethlehem, PA
Hatfield Fire Company #1 - Hatfield, PA
Hershey Lodge - Hershey, PA
Allentown Art Museum - Allentown, PA
Hotel Bethlehem - Bethlehem, PA
Iron Lakes Country Club - Allentown, PA
Alexandria Manor - Bethlehem, PA
First Presbyterian Hall - Bethlehem, PA
Richlandtown Inn - Richlandtown, PA
Traditions of Hanover - Bethlehem, PA
Moravian Hall Square - Nazareth, PA
Kirkland Village - Bethlehem, PA
Center Valley Tavern - Center Valley, PA
Masonic Temple - Easton, PA
Coopersburg Moravian Hall - Coopersburg, PA
Trinity Memorial Lutheran Hall - Emmaus, PA
Kirkridge Retreat Center - Bangor, PA
Allentown Jewish Community Center - Allentown, PA
Union UCC Fellowship Hall - Neffs, PA
West Lawn United Community Center - Reading, PA
Moravian Village - Bethlehem, PA
Four Seasons Clubhouse - Macungie, PA
Woodstone Country Club - Danielsville, PA
Trinity Lutheran Social Hall - Lansdale, PA
Hope Lutheran Fellowship Hall - Cherryville, PA
Sugar Hill Jazz House - Allentown, PA
Trinity Faith Hall - Buckingham, PA
St. Joseph's Parish Festival - Limeport, PA
Northampton Country Club - Easton, PA
The Primavera Regency - Stirling, NJ
McCoole's Red Lion Inn - Quakertown, PA
Teraview at Stroudsmoor - Stroudsburg, PA
G.O.L. Steakhouse - Center Valley, PA
Godfrey Daniels - Bethlehem, PA
Blue Mountain Resort - Danielsville, PA
The West End - Quakertown, PA

....plus numerous private and Corporate events!

(Check top of page for Public Appearances)
Live Lehigh Valley Music Honky Tonk Sing Along Piano Player




Joe keeps Old Time Piano Entertaining alive!

Joe's appearances have included the
Hershey Lodge & Convention Center:



The Hershey Lodge
W. Chocolate Avenue
Hershey, PA  17033



---

Joe has provided party entertainment
at the Northampton Country Club:



Northampton Country Club
5049 William Penn Highway
Easton, PA 18045



---

Joe has performed Holiday Sing-alongs
at the Historic Hotel Bethlehem:



Hotel Bethlehem
437 Main Street
Bethlehem, PA  18018


---

Joe has supplied corporate entertainment
at the Allentown Art Museum:



Allentown Art Museum
31 N. Fifth Street
Allentown, PA  18101


---

Joe has provided event entertainment
at Woodstone Country Club:



Woodstone Country Club
3777 Dogwood Road
Danielsville, PA 18038


---

 Be it a banquet hall, restaurant, bar, or private club,
Joe can easily adapt to the audience.

.Need a formal presentation? Joe can perform
"The Great American Piano Show"
highlighting popular music from the last 120 years
and how many songs have still survived today!